5 Things to Look for in a Good Chamois
It only takes a few saddle sores, chafing and intense discomfort to realize that that pad in your cycling shorts really is incredibly important. A good chamois is by far the most crucial attribute of a cycling short. And finding a good chamois is about so much more than just looking for one with lots of padding as most people seem to think. The comfort, sensation, and hygiene of a cyclist are reliant on a high quality, comfortable, individualized pad. Gender, body type, and performance are variables that determine the pad that is suitable for you. Finding a good pair of cycling shorts is so much harder than it seems. So here at SCODY, we have decided to make things easier for you by compiling a short list of 5 things to look for in the perfect pad:
Size and gender make a huge difference to your pad, so make sure the pad you are getting is gender-specific. A women's chamois is slightly wider to accommodate women's' slightly wider sit bones, whilst a men's chamois is slightly longer to ensure modesty. Your size and shape also plays a role in your comfort. SCODY has extensively researched saddle pressure zone distribution patterns that cyclists transmit when riding. These tests found that differences between gender, size, and riding styles all affect the comfort of a pad for its rider. As such, here at SCODY our pads are not only tailored to your gender but also to your size, with our smaller garments using different pads to our larger garments to ensure everyone gets the support they need.
The positioning of a pad is important as the chamois are designed to provide more support in certain areas. Chamois shouldn't be too big; a smaller chamois is less likely to slide around. It is important that the pad is not only thick but also made of high-density foam which enables it to maintain its shock absorption properties for longer.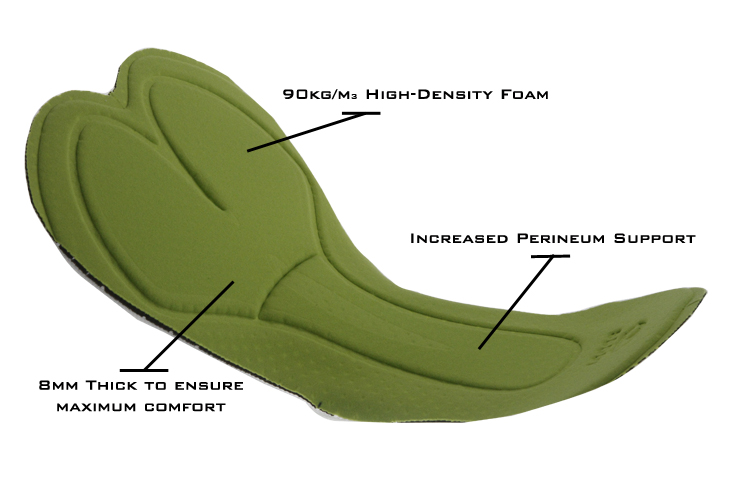 Positioning and support are two of the main differences between cycling chamois and triathlon chamois. Cycling chamois are longer and more padded as they are designed solely for comfort on the bike. Triathlon chamois, on the other hand, is slightly smaller and thinner as they are designed to allow athletes to swim and run as well as cycle.
The material used in the cover fabric can help minimise chafing, bacterial issues as well as discomfort. Antimicrobial fabrics should be used in all chamois to ensure the chamois doesn't gather bacteria. Moisture management in the cover fabric and perforation are also necessary for ensuring the fabric has high moisture wicking qualities. This means that the pad will not become saturated in sweat leading to chafing. SCODY chamois features a highly perforated, 4-way stretch polyurethane foam which creates an abrasion-free interface between skin and chamois that maintains comfort ride after ride.
How the pad is cut and assembled together also plays a role. Most chamois are still made using a method called thermoformation, or foam layering, which requires the use of adhesive glues. However, this has been shown to cause a heat build-up between foam layers which is often the cause of saddle sores. The SCODY team has found a way to eliminate the use of glue in chamois construction. SCODY uses "Lazer Cutting Technology" which involves a single piece of high-density foam cut into the specific anatomical shape and regional thickness variant required. This results in decreases in heat build-up between foam layers, and therefore reduces abrasion-induced injuries.
Make sure you check that the chamois has been sewn into the garment without leaving too much-exposed thread as it can rub against your skin causing chafing. There are two common chamois stitch techniques - a zig-zag stitch right on the edge of the pad and a cover stitch which covers the edge of the chamois. The zig-zag method has the lowest profile but is more fragile as any break in the thread means it will easily unravel. It is very important to look after your knicks and/or tri shorts and keep them out of chlorine.
The perfect chamois is something that takes work. It's not a simple matter of gluing pieces of foam together in roughly the same shape. The difference between a cheap chamois and a good chamois not only makes a difference to your comfort and health but also your overall performance. As such, the only real way for a brand to develop the perfect chamois is to try and test it themselves. At SCODY we have done just that. Every chamois featured in the SCODY Chamois Range has been tested by Professional Athletes of varying gender, size, and riding styles. Hundreds of kilometers have been ridden by our athletes to ensure the most in-depth feedback possible. The result - a range of Chamois that are the most comfortable we have ever produced.
Although these 5 steps provide a great starting point, if you really want to find that perfect chamois to ensure you look good, feel good and perform, it can all be done in one simple step: come to SCODY!
Leave a Comment
Leave a Reply